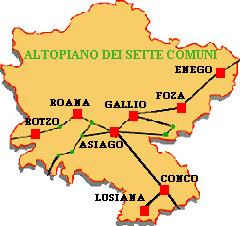 A brief history of Spettabile Reggenza dei Sette Comuni
The next few paragraphs were shared with me by Gerardo Rigoni

Towards the middle of the 1300's the altopiano comunity decided to give itself a sort of government to handle various problems that the enlarged comunity posed.

The elders of each family branch (yes the cunico's also!) met and decided to create a "nation" calling it the Spettabile Reggenza. The form was very similar to the swiss state setup:

each comune would have a representative in the council. the representative would be voted on each year by the head families that composed his comune. A representative could not be revoted in two following years, that is between his reelection at least a year would have to pass.
The council met once every 15 days in Asiago, the reggenza building was where the pastor's house is now. In these reunions every aspect of the altopiano life could be discussed; building a home, where to cut wood, where the animals could pasture, passing rights, taxes and especially making contracts with the farmers in the plains to pasture the sheep in the winter time.

(Here a precision is necessary, at that time the predominant farm animal was sheep not cows, so one could say that the original asiago cheese was made with sheep milk! The number of sheep present on the altopiano in the 1500's arrived to over a milion head; the dairy cow was introduced when the farmers in the plains began not wanting the altopiano sheep pasturing on their lands. Cows can stay in barns in the winter, sheep can't.)
Getting back to the Spettabile Reggenza, this form of government also had legislation on the land, even today most of the altopiano territory is not privately owned but is property of the people (this is called usi civici). Each Comune had the direct right on it's territory (thru the power given it by the people) and the other Comunes had to pay a transit tax to pass thru the other Comune's territory. On this point a curiosity: Asiago, to get it's lumber to the Brenta river where it would be sold, had to pass thru Gallio. Not wanting to pay, asiago built a stone cut stairway made of 4444 stairs to bypass Gallio. The stairway is calles the Calà del Sasso and should still be in the Guiness world records as the longest stairway.

In 1406 the political scenario in the area was quite difficult. The warlord Ezzelino died and his various territories (Bassano and Marostica all the way to Vicenza) began fighting to conquer the most land. The altopiano found itself in the middle of these conflicts and not having a powerful army decided to find protection under Venice, the Serenissima. Seven representatives of the Altopiano, one for every township, went to the doge (the ruling figure of Venice) and promised Venice the first pick on the wood and agricultural produce in change of protection and independence which meant no taxes owned and no military service; only obligation was to defend the northern boader and to not sell wood or food to Venice's enemies. This accord lasted until the end of the 1700's when the Venice lordship finally passed from being after having been defeated by the french and austrian alliance.
Another curious note, in the famous battle of Lepanto, where the venitians defeated the turkish navy a boat was built, furnished and manned by altopianesi, For their courage and their dedication Venice gave the altopiano a flag, considered a great honor, which is still visible in the Asiago town hall.

The Spettabile Reggenza remained in power for over 500 years maintaining it's independence through all the difficulties in that period with powerful nation states pressing on it's boarders. When napoleon defeated Venice he first imposed a census of the altopiano to better tax the area. Here is when last names became obligatory and the various families began calling themselves Rigoni, Cunico, Rodeghiero, etc. Finding many difficulties in relating woth the altopianesi, remember they spoke a german dialect even if at that ttime the venitian dialect was spoken and began infiltrating the original language. Napoleon, to rid himself of the altopiano, gave the area to the Austrian king thatm in turn, passed the administration of the altopiano to the bishop prince of Trento. The ruler of trento had wanted the altopiano, for it's rich pastures, for time unknown and he immediately began taxing heavily the population to bend the proud altopianesi to his will. When the altopiano didn't pay the taxes he demanded he sent prince maxamillian to invade the land. Maximillian set off, 3000 soldiers strong, to bend the altopianesi, these, instead of bending their heads, affronted maxamillian creating manmade landslides in the Enego area that decimated his troops. Maxamillian pushed on and conquered Enego. He then began pushing towards Asiago. On his way, on the Asiago Gallio boundary, he met up with a powerful resistance. The altopianesi fought him for various days until they were forced to retreat but maxamillian troops were now down to less than a 1000.

Another note: The altopianesi that fought Maxamillian's troops on that boundary were considered hero's by the altopiano than gave them the honor be called, even today, with the last name Forte, that is strong. So any Forte is a decendant of one of those valiant fighters!

Maxamillian burned most of Asiago to the ground finding it completely abandoned by its habitants. The asiaghesi had run to Rotzo, that is way many asiago last names are found also in Rotzo. No people, no taxes. Maxamillian returned to Trento in shame and the bishop prince no longer wanted anything to do with the Altopiano.
The altopiano lived in this conquered, not conquered situation until 1860's when the italian people began dreaming of a nation of their own. This period, from the end of the Serenissima in 1767 to the unification of the Veneto Region to Italy in 1867, was not a good one for the altopiano, surrounded by city states that had no fondness for them and so the altopianesi couldn't sell their produce. In this period the first emigrations began. The altopianesi began going to austria, germany, the united states (even fighting in thr civil war), to prussia.

The dream of an italian nation was taken on enthusiastically by the altopiano that had an important part in this new movement called the Risorgimento.
Another article by Gerardo Rigoni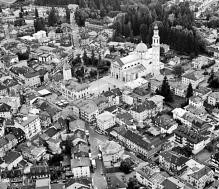 Da quando la Corte di Cassazione ha deliberato a favore del referendum pro Trento, la questione è oggetto di dibattito in tutte le piazze dell'Altopiano. Chi si dichiara a favore, chi contrario: ognuno porta avanti i suoi ragionamenti che troppo spesso, si soffermano solamente sulla questione economica. Per quanto possa essere un punto importante, non è certamente quello preso in considerazione dalla Corte di Cassazione e neppure dal movimento referendario. Le ragioni che hanno spinto la Cassazione a dare l'ok al referendum sono di natura natura storica ed etnica, tra l'altro sono le uniche motivazioni ritenute valide dalla legge per cambiare regione.
«L'antico tedesco fu parlato dalle nostre genti fino alla prima guerra», spiega Francesco Rodeghiero, coordinatore del movimento.
Che continua: «È dimostrato che la gente dell'Altopiano è di origine germanica. Dall'anno mille emigrarono dall'odierna Baviera, chiamati dai frati benedettini, per rendere produttive le terre dell'Altopiano, a quel tempo ricoperte da fitti boschi. Una migrazione che è proseguita fino al 1350. Intorno al 1200, poi, i Sette Comuni si unirono in Federazione con un proprio governo democratico».
Fatti storici, dimostrati da studi sulla lingua cimbra e da documenti conservati negli archivi di Vicenza e Venezia. Altrettanto vere però sono le numerose testimonianze storiche delle dispute tra le genti dell'Altopiano e le popolazioni trentine. Nel 1750, la Conferenza di pace di Rovereto, che si concluse con la posa di numerosi cippi per segnare i confini sulla piana di Marcésina, ha cercato di porre fine a «lunghi secoli di contese tra l'Altopiano, suddetti fedeli della Serenissima, e gli abitanti del Trentino, sudditi cesarei sotto la signoria dei Principi - Vescovi di Trento», come descritto nel libro di Ivone Cacciavillani "I Cippi della Marcésina".
Già nel 1496, l'ambasciatore della Serenissima alla corte dell'Imperatore Massimiliano, Francesco Foscari, parla nei suoi dispacci delle scaramucce «frequenti e talora asprissime» tra i montanari altopianesi ed i valligiani trentini. Domenico Sartori, nella sua "Storia della Federazione dei Sette Comuni Vicentini", scrive di «sistematiche ruberie e soprusi a danno dei Sette Comuni» nel periodo tra il 1524 ed il 1605.
Il paese di Rotzo, per cercare di mettere fine alle continue incursioni nei suoi territori da parte dei trentini, si accordò con Levico per la spartizione delle montagne delle Vezzene. Anche Vicenza città cercò di imporre la sua sovranità sull'Altopiano, non riuscendoci, quando i possedimenti di Ezzelino III furono divisi tra quelle città vittime delle sue scorrerie.
«Non credo di offendere nessuno affermando che gli altopianesi si considerano altopianesi e basta - afferma Emanuele CUNICO, storico asiaghese -. L'Altopiano, nel 1404, ha fatto la dedizione spontanea alla Serenissima per sfuggire ad un periodo d'instabilità politica, quando le Signorie erano in perenne lotta tra loro. Venezia, oltre a proteggere l'Altopiano dalle prepotenze delle Signorie, assicurava un'autonomia alla popolazione altopianese esentandola dai dazi sul commercio di lana e legname. Oggi servirebbero interventi sul turismo e sui servizi. Se la Venezia di oggi avesse l'attenzione per l'Altopiano che aveva la Venezia di ieri, non credo che il cambio di confine avrebbe più alcuna attrattiva».
L'Altopiano Contrade

Contrade & Frazioni of the Asiago Comune
The localities of the Asiago Comune consist of: Asiago, Ave, Balde, Bertigo, Bischofarn, Bortune, Bosco, Buscar, Chiesa di Sasso, Clama, Ebene, Pènnar, Rodeghieri-Rigoni-Podesta-Costa, San Domenico, Valle Vescovi, Bortoni-Camplan, Busa, Buscar, Caporai di Sasso, Cassordar, Coda, Gianesoni-Cotti di Sasso, Grulli di Sasso, Guardinalti, Kaberlaba, Laiten, Làmara, Linta, Longhini, Melar, Morar, Mosele, Oba, Oe-lar, Orkentaal, Ospedale Civile, Osservatorio Astrofisico, Prudegar, Roncalto, Rutzar, Santa Maria Maddalena, Schacher, Schbanz, Stocke, Taal, Tulle, Untargeicke, & Zocchi
contrade frazione Sasso: Lobba, Chiesa, Mori, Grulli, Sprunch, Gianesoni, Colli, Cotti, Ecchelen, Ruggi, Caporai
Contrade & Frazioni of the Roana Comune
Sculazzon, Ostarelli, Dosso, Roi, Cavrari, Frighi, Tresche, Fondi, Mantovani, Chiesa, Toccoli, Pozzo, Sartori, Telve, Rela, Bettinadi, Canove di Sotto, Faiga, Magnabosci
contrade frazione Roana, Camporovere, Canove, Cesuna, Treschè Conca, Mezzaselva
Contrade & Frazioni of the Conco Comune
Bastianelli, Bertacchi, Boeme, Ciscati, Costa, Pizzati, Pisoni, Schiani, Rubbio, Berti, Brombe, Mori, Rubbietto, Spelonchette, Colpi, Miozze, Pile, Stingari, Tortima, Topi, Alto, Bielli, Boffi, Busa, Ucchese, Cunchele, Corame, Brunelli, Caselli, Miozze, Bisacca, Cortesi, Gonzi, Moltrina, Muri, Nogara, Oneste, Orni, Rovera, Sandrini, Segala, Xilli, Bagnara, Ronchi, Lazzera, Lupati, Pologni, Stevan, Fratte, Giare, Monte Cogolin, Puffele.
contrade frazione Tortima, Fontanelle,Rubbio,S.Caterina
Contrade & Frazioni of the Enego Comune
Cornetta, Coste di qua, Coste di là, Valdifabbro di qua, Valdifabbro di Là, Valgoda, Valdicina, Dori, Frisoni, Godenella, Godeluna, Lessi, Cappello, Coldarco, Frizon, Giardinetto, Madonnina, Piovega di Sopra, Piovega di Sotto.
contrade frazione Fosse di Sopra, Fosse di Mezzo, Fosse disotto, Stoner
Contrade & Frazioni of the Foza Comune
lazzaretti, Guzzi, Catagni, Stainer, Carpanedi, Ori, Chiomenti, Reiteie, Ciepa, Ronar, Valcapra, Polinti, Trolli, Ghigner, Contri, Tesser di Sopra, Tesser di Sotto, Labentall, Stona, gechelini, Durrench, Martini, Alberti, Cruni, Ravanelli.
contrade frazione Gavelle
Contrade & Frazioni of the Gallio Comune
Zingar, Groghi, Valle dei Ronchi, Schivi, Sambugari, Ronchi, Dalla Bona, Bonur, Gianesini,Bertigo, Sisemol,Stellar, Ferragh,Rotz,Costa, Leghen Zebbo.
contrade frazione Stoccareddo, Campanella,Zaibena
Contrade & Frazioni of the Lusiana Comune
Sasso, Cobbaro, Onfesa, Zampese, Ronzani, Pernecchele, Frelli, Xausa, Strambi, Laverda, bagnara, Piccoli, Salberghi, Coghi, Campanelli, Ronco, Pozza, Soster, Conte, Marotte, Abri, Sassi, Giarette, Ciscati, brazzale, Palazzo, Girardini, Perarola, Perpiana, Covolo, Valle di sotto, Valle di Sopra, Rigine, Abriani, Crosello, Marziele, Quanela, Brunelli, Busa, Sciessere, Villanova, Piazza, Campana, Mazze, Lazzaretto, Lupati, Cavassi, Vitarolo, Vendramini, Miotti, Marchi,
contrade frazione S.Caterina, Laverda